Who's in Jabadaw?
Ex-members of Jabadaw...
Gone but not forgotten. Take a nostalgic look at some of them in our Hall of Fame.
---
Martin Keates
Hurdy-Gurdies, Keyboards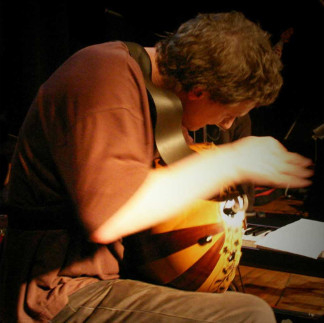 Martin is one of the two founder members of Jabadaw. He started learning the piano at the age of 15, detoured by way of the hammered dulcimer, and eventually took up the hurdy-gurdy in 1992.

He was once described by Nigel Eaton as a teenage hurdy-gurdy whizzkid, even though he was well into his 20s at the time.

He also plays drums and melodeon (but doesn't like to admit it). Other interests include pinball, juggling and being obsessed with (one of) the Spice Girls. In his spare time he likes to appear in TV adverts with Bob Mortimer.
Martin also played with Jabadaw Trio and in a duo with Miranda Rutter, and currently plays in Laefty Lo and with Helena in Skeller.
---
Simon Dew
Soprano Saxophone, Flute, Octave Mandola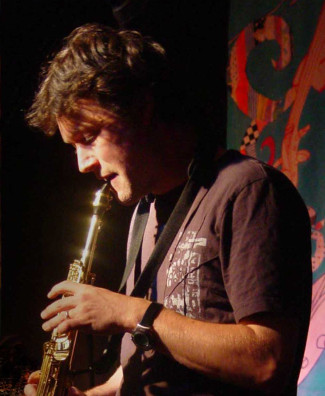 Simon is the other founder member of Jabadaw. His first instrument was the tin whistle, which he took up at the age of 17. He soon branched out into other woodwind instruments, including the flute, before discovering the soprano saxophone in 1994.

Simon also played with Fika, Jabadaw Trio and in a duo with Jo Veal.
---
Helena Reynolds
Fiddle, English Half-Long Border Bagpipes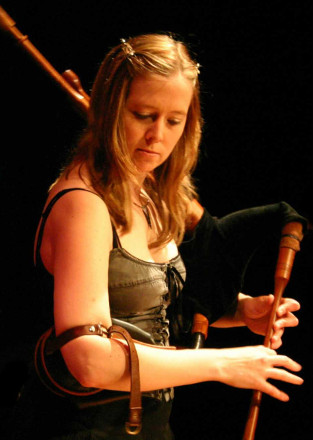 Helena joined the band in September 2001 and played her first gig with us in the spring of 2002. She plays a Quinton 5-string fiddle and English half-long border bagpipes.

A product of the irrepressible Sheffield folk scene, Helena has been playing folk music since the age of 18: she is particularly interested in French, Breton and English music. She also developed a love of Galician folk music when she lived in Santiago de Compostela. She's mad about all kinds of dancing: English Ceilidh, Morris, French, Swedish, Galician... and anything else.

She also plays with Martin in Skeller.
---
Peter Kenney
Bass Guitar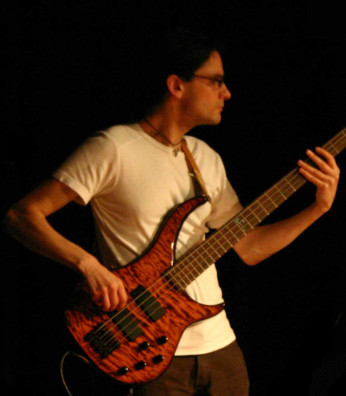 Peter played his first public gig with us at the Whittlesea Straw Bear Festival in January 2003. His fretless bass adds more than a touch of jazz to Jabadaw's rhythm section.

When not turning out a well-crafted bassline, Peter is also a fine pianist, flautist and composer and is involved in the Sheffield folk and jazz scenes too.
---
---
[Back to Home Page]